ACME – From the ancient Greek word "akme/aekmi" to mean "highest level of perfection, the peak, zenith, prime, etc".
Introduction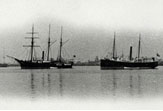 Acme Marine Services International Pty Ltd, a Western Australian owned and operated marine and cargo surveying company, was established and commenced operating as at 1st February, 2005, to service the marine industry, with regards to the providing of a wide range of marine-related survey services and associated activities.
Acme Marine Services International Pty Ltd was founded on the basis of providing a totally independent, reliable and professional service to all that are directly or indirectly active within the marine industry.
Although based in Fremantle, Western Australia, we can offer our services, as per our Clients' needs, to all ports and other locations within Western Australia, together with attendances elsewhere in Australia and abroad, if required.
Acme Marine Services International Pty Ltd has grown from strength to strength over the years, since inception, servicing Clients/Principals not only based locally or interstate but also internationally.
Our "List-of-Marine-Surveys-and-Services" are attached.